Australian Wildlife Adventures & Luxury Tours
Australian Wildlife Adventures is an award winning tour company operating four unique brands and offering some of the most diverse and interactive wildlife experiences in Australia. From swag camping adventures across the Nullarbor to enjoying the creature comforts of a 4.5 star accommodated tour on Xplore Eyre, whether you are a backpacker, couple, family or even group, one of our diverse range of touring options will suit you!
We have been showcasing the untouched and spectacular destinations of the Eyre Peninsular in South Australia, the Nullarbor and the south west of Western Australia for the past 15 years. We offer travellers from all over the world authentic experiences with passionate people.
Environmental sustainability is deeply engrained into our company culture and we are proudly an Eco-certified company. We are also the only company in Australia that offsets its carbon footprint internally by planting 1.2 hectares of native vegetation on our property Coodlie Park Farm Retreat each year.
Australian Wildlife Adventures has adapted over the years to meet a growing demand for customized wildlife experiences so if one of these doesn't take your fancy get in touch and we'll see what we can do!
Our Brands & Touring Options
Nullarbor Traveller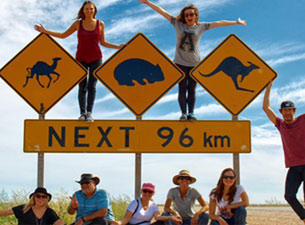 The Nullarbor Traveller is for free spirited travellers who love adventure and camping. Jump on and do the ultimate Aussie road trip crossing the Nullarbor from Perth to Adelaide or in reverse on our 10 day adventures. Or take a shorter 3 or 6 days option discovering the Eyre Peninsular or the South West of Western Australia. From the ultimate adrenalin experience of coming face to face with a great white shark to the peacefulness of sleeping under a billion stars – we promise you the trip of a lifetime!
GREAT AUSTRALIAN BIGHT SAFARIS
Great Australian Bight Safari's is a great option for those still wanting some adventure but who wouold like a bed rather than a swag! We offer the same great experiences and destinations as the Nullarbor Traveller throughout the Eyre Peninsular, Nullarbor and South West of Western Australia staying in hostels or motels along the way. We are also happy to customize intinearies to suit individual groups needs.
Xplore Eyre
Xplore Eyre is a dynamic personalised touring product that works fluidity with the Eyre Peninsula's seasons. Xplore Eyre encapsulates the jewels the region has to offer wildlife experiences, local produce, fresh seafood and sweeping landscapes and seascapes.
Each tour is tailored to the individual guest or group and features luxury accommodation, executive vehicles, small groups and culinary feasts and incorporates travel via rail, land and air.